A compact hand operated seeder to get you started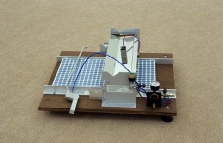 The Hamilton Handy Seeder is designed for the grower who wants to get started sowing their own plugs, but does not want the expense of an automatic seeder.
Pickup tubes are drilled with holes to suit the spacing of the plug tray. The seeds are vibrated in a stainless steel seed tray and picked up by vacuum on the holes. The handle is then moved from the pickup position to the discharge position, just above the plug tray. A small hole in the handle is covered to release the seeds onto the surface of the compost. The tray is moved by hand to the next row, and the process repeated. The vacuum and vibration are adjustable for different sizes and weights of seed.
Three pickup tubes of your choice are supplied with each machine. Hole sizes are: 0.3mm for small seeds (lobelia to pansy size), and 0.5mm for larger seeds (clipped marigolds, etc.). Multi holes can be drilled for clump sowing if required. A small compressor is required to operate the machine.
Back